Scenic Drives
These are some of the best drives you can take around the Winter Park, Granby and Grand County area. How can we describe this Rocky Mountain High? Epic, unbelievable, and unforgettable beauty. Enjoy the cool mountain air, wildflowers, wildlife, snow-capped vistas, and experience a Rocky Moutain High like no other, when you start your adventure touring some of the most epic rides in Colorado. You will quickly need to add to your bucket list when you start viewing our scenic drives and hikes.
Corona Pass
The road up Corona Pass is tough, rocky, and even a little scary but the views are unbelievable. At over 11,000 feet you will feel like you are on top of the world, overlooking Winter Park Resort and surrounding area.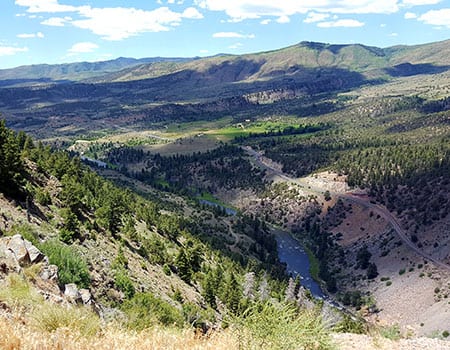 You'll find other traffic in 4-wheelers, ATVs, and mountain bikes, as this is a local favorite. Along the way you'll see a few lakes, ponds, wildlife, waterfalls, and the historic train trestle at the top with spectacular views. The trip up is definitely part of the adventure, but watch out for other bikers and hikers.
At the top you can hike the Rodgers pass trail at the trestle which is a mild hike 2 ½ miles each way, or other trails throughout the area. Even in August, there are sometimes still patches of snow remaining. Take some camping chairs and lunch, and enjoy a full day of adventure. The ride up can take an hour and a half to go 15 miles to the top of the Continental Divide.
To get there you'll head East on Hwy 40 from downtown Winter Park, or Granby, towards Winter Park Resort and take a left where you see the brown sign that says Corona Pass Road before you get to the Winter Park Resort entrance. Turn left and follow the signs to Corona Pas/Moffat Road/Rollins Pass/Forest Road 149. There will be loose rock and erosion damage, so be sure to only navigate this road with high clearance vehicles.
Ute Pass
The Ute Pass drive from Grand County to Silverthorne is a beautiful scenic road through the Williams Fork Reservoir and Valley, and ascending upon the breathtaking views of Eagles Nest Wilderness at the top of Ute Pass, referred to by locals as CR 3. From Granby, head west towards Parshall and turn off Hwy 40 just east of Parshall onto CR3. Winding through the Williams Fork Valley, you'll pass the Henderson Mill up over the top of Ute Pass and descend down to Hwy 9, which lies in between Silverthorne and Kremmling. You can turn right onto Hwy 9 and head through Kremmling on your way back to Granby and Winter Park, or you can turn left on Hwy 6 and you run into Dillion and Silverthorne. From there you can pick up I-70 East and you catch Hwy 40 at exit 232 to head over Berthoud Pass back to Winter Park.
Stillwater Pass
Stillwater Pass in Grand Lake is a beautiful and easy to access scenic drive, and wilderness area that you can continue your adventure with off-road vehicles, bikes or on foot. As well as snowmobiles, snowshoes, or cross country skis in the winter season. The pass is not marked very well, and not very dramatic in elevation change, but the views are beautiful.
As you head through the town of Granby, you'll take a right on Hwy 34 to head towards Grand Lake. Turn left on County Road 4 across from the Dilly Dock Marina, which is the northern end of Lake Granby at the Kawuneeche Road trailhead. The road will turn into a dirt road as you get more remote, and will wind through the switchbacks becoming a jeep trail only recommended for ATVs and four wheel drive vehicles, if you want to drive it to the other side of Willow Creek Pass, which is Colorado 125.
Cottonwood Pass
Located between Winter Park and Granby, get off Highway 40 and take the scenic route to Hot Sulphur Springs. From our Granby office you will turn left on Hwy 40 and go about 2 miles and take a right on County Road 55. You will see a Colorado Scenic Byway sign that says Cottonwood Pass. Enjoy this winding road and views of the historic ranches of Grand County. You'll also see beautiful wildflowers, aspens, moose, and other wildlife. Descending into Hot Sulphur Springs, you can take a right to return back to Granby or travel through Byers Canyon which is on the upper Colorado River in Grand County. You will see the Union Pacific Railroad's Moffat Route travels through this 8 mile canyon and offers breathtaking views along the scenic drive to Kremmling.
Trail Ridge Road – Rocky Mountain National Park
You are sure to see impressive views and wildlife along this high elevated road that connects Grand Lake and Grand County with Estes Park. Trail Ridge Road Hwy. 34 is 48 miles long, and 11 miles of it is above tree line. It is the highest continuous paved road in the United States, reaching an elevation of 12,183 ft. This road traverses through forests and over alpine tundra with panoramic views of the Kawuneeche Valley and gorgeous mountain ranges. Wildlife is abundant with elk, moose, pika, marmots and bighorn sheep, to name a few. Cross the Continental Divide at Milner Pass, elevation 10,120 ft., just 16 miles from the west entrance in Grand Lake.
There are several pull-off areas with numerous trails and hikes, or just to stop and get that perfect photographic opportunity overlooking the spectacular views and in the evening night light from Denver and Fort Collins. The whole trip is 48 miles and can take 2 hours without stops, or spend a day exploring and taking in the mountain wilderness. We do like to remind our guests that this is a fragile ecosystem, and to stay on all marked trails. Any growth that is traveled on may take decades to heal.
From Winter Park and Granby, head north on Hwy. 40 through the town of Granby and turn right onto Hwy. 34, and travel approximately 16 miles to the west entrance of Rocky Mountain National Park. Trail Ridge Road is open to the east side entrance in Estes Park from approximately May to October depending on snow conditions. There are also temporary closures in early June or late fall due to snow. Trail Ridge Road is open is open year-round from the west entrance in Grand Lake to the Colorado Trail Head 10 miles. Call 970-586-1222 for updates on Park and road status.